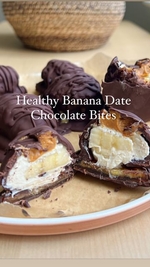 healthy banana date chocolate bites from @upbeetandkaleingit
These delicious and healthy bites are made with bananas, dates, and chocolate. they taste like little candy bars and are perfect for satisfying your sweet tooth.
Instructions
1. combine juicy medjool dates, banana slices, and thick yogurt. 2. Add peanut butter and chocolate to the mixture. 3. Shape into bite-sized pieces and enjoy.
https://m.kiti.ai/oFvf