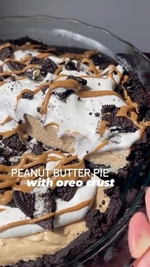 peanut butter chocolate pie from @erinliveswhole
A dreamy dessert with a chocolate oreo crust and a creamy peanut butter filling. perfect for festive occasions and sure to impress!
Instructions
1. blend 24 oreos with 6 tbsp melted butter in a food processor. 2. Press into greased pie dish and bake for 12 minutes at 350f. let cool. 3. Using a mixer, blend 1 block cream cheese, 3/4 cup peanut butter, 1/4 cup maple syrup until creamy. 4. Beat in 1 8oz tub defrosted cool whip and blend till combined. 5. Pour into cooled crust, top with more cool whip, oreos, and peanut butter. 6. Refrigerate at least 2 hours before serving.
https://m.kiti.ai/FKAi