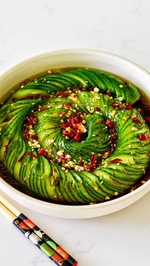 suo yi cucumber salad from @veganbunnychef
A traditional chinese cold dish with a unique slicing technique that creates tender, crunchy layers. served with a splash of sizzling chili oil for an aromatic and divine experience.
Instructions
1. slice 1 large cucumber or 2-3 medium ones using the special slicing technique. 2. Mix 3 garlic cloves, 3-4 dry red chili peppers, 1 tsp white sesame, 1 tbsp soy sauce, 1 tbsp rice vinegar, 2 tsp brown sugar, 1/2 tsp sesame oil, 1-2 tbsp high smoke point oil, and a generous pinch of salt. 3. Pour the sauce over the sliced cucumber and serve.
https://m.kiti.ai/Sjes