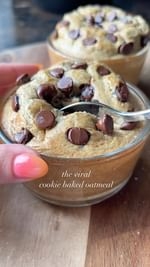 viral cookie baked oatmeal from @chaneleatsgf
A single-serving, healthy baked oatmeal that tastes like cake, sweetened with banana. easy to make and perfect for a delicious breakfast or snack.
Instructions
1. add all ingredients except chocolate chips to a blender & blend until smooth. 2. Pour batter into a small oven-safe baking dish + top with chocolate chips. 3. Bake at 350f for 20-25 ish minutes.
https://m.kiti.ai/wJ6H