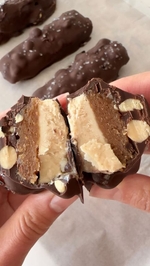 healthier snickers ice cream bars from @lindsay.keosayian
A delicious and healthier alternative to snickers ice cream bars, made with dairy-free, gluten-free, and refined sugar-free ingredients. enjoy a tasty frozen treat with a peanut butter layer and a dark chocolate coating.
native forest organic simple coconut milk
natural creamy peanut butter
Instructions
1. blend all the ingredients for the ice cream layer until smooth. transfer to a glass dish (i used 5"x5") lined with parchment paper. 2. Place the dish in the freezer for at least 2 hours. 3. In a small bowl, mix together the peanut butter layer ingredients (peanut butter and maple syrup) until well-combined. *it helps if the ingredients are at room temperature and not refrigerated. if your mixture still isn't smooth enough to spread, stir in 1-2 tbsps of coconut milk. 4. Spread this layer evenly on top of the frozen ice cream layer. 5. Top with peanuts. 6. Place the dish back in the freezer for about an hour. 7. Melt your chocolate chips and coat each ice cream bar with the chocolate. 8. Sprinkle with sea salt if desired, freeze until the chocolate hardens, and enjoy!
https://m.kiti.ai/bD3B