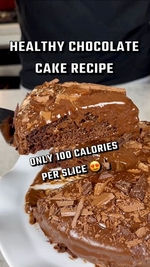 chocolate cake for weight loss from @ice.karimcooks
A delicious and moist chocolate cake with only 100 calories per slice. perfect for those watching their weight and still wanting to enjoy a tasty treat.
swerve sugar free confectioner
Instructions
1. preheat oven to 350°f then spray a 9 inch springform pan with avocado oil (or line with parchment paper) 2. In a mixing bowl, sift flour, cocoa powder, monkfruit sweetener, salt, and baking soda 3. For the wet ingredients, combine apple sauce, vanilla extract, apple cider vinegar, and water 4. Add wet ingredients to dry ingredients then mix until just combined (don't over mix the batter a few clumps are ok) 5. Bake at 350°f for 25-30 mins or until toothpick inserted comes out clean. important: let it rest for 10 mins 6. For the frosting: in a medium sized bowl, mix sugar free confectioner sugar, monkfruit sweetener, cocoa powder, and almond milk 7. Frost your cake after it's cooled down then top off with shaved dark chocolate or milk chocolate (optional) and enjoy!!
https://m.kiti.ai/HWfu