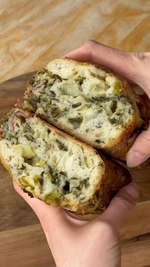 cheddar, spinach and bacon onion overnight loaf from @maegan_eats
A delicious vegan overnight loaf packed with tofu bacon, vegan cheddar, olives, green onions, and spinach. the perfect combination of crispy crust and chewy texture with savory and tangy flavors.
Instructions
1. combine 1 3/4 cups of flour, 1/2 tsp of yeast, and 1 tsp of salt in a large mixing bowl. 2. Add 1/2 + 1/3 cup of water and mix until a dough forms. 3. Fold in 1/3 cup of cheddar, 3-4 green onions, 1-2 handfuls of spinach, 2-3 strips of tofu bacon, and a handful of olives. 4. Cover the dough and let it rest overnight. 5. Bake the loaf according to the instructions on the website.
https://m.kiti.ai/DZpU