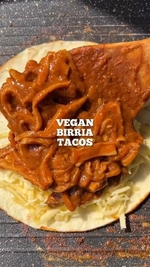 vegan birria tacos from @veganrecipesideas
A delicious vegan twist on the classic mexican birria tacos, featuring king oyster mushrooms and a spicy tomato-based sauce. perfect for a tasty and satisfying meal.
paprika/cumin/onion/garlic powder each
Instructions
1. char your aromatics in a little splash of oil on a very hot pan until they soften and have black spots all over the outside. 2. Add your spices and tomato paste then fry off for another few minutes before adding the stock and bay leaves then simmer for another 10 minutes to reduce. 3. Blend the aromatics along with the liquids then return to the pan and continue simmering with a little water. 4. Shred your oyster mushrooms using a fork then transfer to the pan and simmer again to reduce the liquid and soften/cook the mushrooms. 5. Dip a corn tortilla in the sauce then place on a dry/hot pan to cook and become crispy, fill with the mushrooms, vegan cheese then serve with coriander and lime.
https://m.kiti.ai/odbB