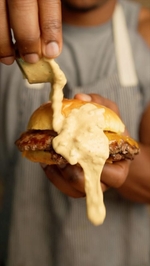 thig's big mac sauce & smash burger from @damienthigpen_
A delicious homemade big mac sauce with a side of smash burger. perfect for elevating your burger game.
Instructions
1. combine 1/2 cup mayonnaise, 3 tbsp ketchup, 3 tbsp yellow mustard, 2 tbsp onion, 1/2 tsp onion powder, 1 grated garlic clove, 1 diced dill pickle, 1 tsp white distilled vinegar, 1 tsp powdered sriracha, and salt and pepper to taste. 2. Mix well and serve with a side of smash burger.
https://m.kiti.ai/VbCe