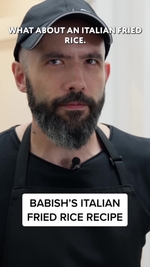 italian style fried rice from @babishculinaryuniverse
A delicious fusion of italian and asian cuisine, this italian style fried rice is perfect for a quick and tasty meal. enjoy the combination of classic italian flavors with the satisfying texture of fried rice.
Instructions
1. cook rice according to package instructions. 2. In a large skillet or wok, heat oil over medium-high heat. 3. Add garlic and onions, cook until fragrant. 4. Add vegetables and cook until tender. 5. Stir in cooked rice, season with salt, pepper, and italian herbs. 6. Add cooked protein of choice (chicken, shrimp, tofu, etc.) 7. Cook until heated through and flavors are well combined. 8. Serve hot, garnished with fresh basil or parsley.
https://m.kiti.ai/TYhU