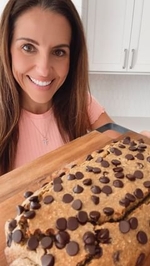 healthy chocolate chip banana bread from @lindsay.keosayian
A soft and moist banana bread made with wholesome ingredients and dark chocolate chips. no mixer required, just blend and bake!
Instructions
1. combine all your ingredients except the chocolate chips in a blender or food processor. 2. Stir in chocolate chips. 3. Pour the mixture into a loaf pan lined with parchment paper. 4. Top with additional chocolate chips. 5. Bake in the oven at 350 degrees f for about 30 minutes or until a toothpick comes out clean. 6. Let cool for about 20 minutes. remove from loaf pan, slice and enjoy!
https://m.kiti.ai/eAhb