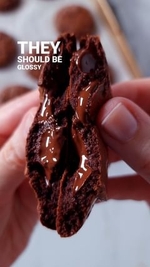 fudgy flourless brownie cookies from @theloopywhisk
These delicious fudgy flourless brownie cookies are a perfect treat for those who love chocolate. they are easy to make and require only a few ingredients.
Instructions
1. melt 150g of unsalted butter and 70g of chocolate together. 2. In a separate bowl, whisk two eggs and 150g of sugar until fluffy and pale. 3. Add in the melted chocolate and butter mixture, and whisk really well. 4. Sift in 30g of cocoa powder and 1/4 teaspoon of salt, then whisk again until combined. 5. Add 60-90g of chopped chocolate chips and mix. 6. Chill the batter in the fridge for six to eight minutes until fairly runny. 7. Scoop the batter by the spoonful onto a baking tray. 8. Bake at 350°f (180°c) for eight to nine minutes until they look glossy and crackly.
https://m.kiti.ai/WXbR