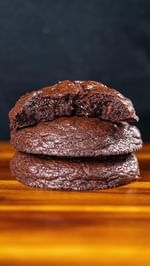 fudgy brownie cookies from @tastyideas
These delicious cookies combine the best of brownies and cookies into one tasty treat. rich, fudgy, and loaded with chocolate chips, they're perfect for satisfying your sweet tooth.
bittersweet chocolate chips
Instructions
1. on stove-top melt your bittersweet chocolate and butter together. 2. Add chocolate into bowl and both sugars start adding ingredients as seen in video. 3. Combine everything together, then scoop your cookie, and place on cookie tray. 4. Bake at 350f for 13 minutes and enjoy!
https://m.kiti.ai/Qysv