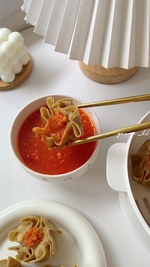 dimsum ayam homemade from @yeeun_dl
A delicious homemade chicken dimsum recipe using wonton wrappers. perfect for a quick and tasty snack or appetizer.
Instructions
1. prepare the chicken filling. 2. Place a small amount of filling in the center of each wonton wrapper. 3. Fold and seal the edges of the wrapper to form a dimsum shape. 4. Steam the dimsum for 10-15 minutes or until cooked through.
https://m.kiti.ai/PqVn