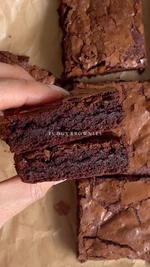 crackly top brownies from @michellek23_
A delicious brownie recipe with a perfect crackly top. enjoy the rich, fudgy texture and amazing taste.
dutch process cocoa powder
Instructions
1. preheat oven to 340 degrees. 2. In a bowl, add in butter, chocolate, and coffee and whisk over a pan filled with hot water so that it melts in the bowl. 3. Set aside and in a separate bowl, add in two eggs and sugar. whisk until you see no sugar. then when it gets a little foamy, mix with the hand mixer. mix on medium setting until the mixture is creamy and runny. it should be a nice beige color. then add in the melted chocolate and whisk gently. 4. Sift in the cocoa powder and flour and with a spatula mix gently. pour into a baking pan and bake for 22-25 minutes! 5. Let it cool before slicing!
https://m.kiti.ai/hzsj