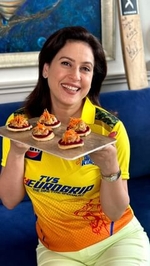 chennai's murukku chaat from @amritaraichand
A quick, easy, and healthy snack inspired by chennai super kings' cricket team. enjoy this delicious treat while watching the game with friends.
Instructions
- in a bowl, add boiled chickpeas, onion, tomato & green chillies. season with salt, red chilli powder, cumin powder, and chaat masala. mix well. - on a serving platter, place the murukkus. place the sliced beetroot on top, then add the prepared chickpea mixture. finally garnish with carrot juliennes and serve immediately.
https://m.kiti.ai/QRaJ