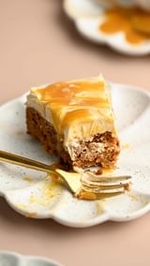 caramel mudcake from @mainlymonica
A delicious caramel mudcake made with coconut yogurt, biscoff spread, and salted caramel protein powder. topped with a creamy dairy-free frosting.
caramel sauce or maple syrup
salted caramel protein powder
salted caramel protein powder
Instructions
1. preheat oven to 165°c and grease and round cake tin with baking paper 2. Add the yoghurt, biscoff, sugar and caramel sauce (or maple syrup). whisk to combine. 3. Add the flour, protein powder, baking powder, baking soda and fold until combined. 4. Pour the batter into the prepared tin and spread out evenly 5. Place into the oven to bake for 30 or until golden and a skewer comes out mostly clean. set aside to cool. 6. To make the frosting add the butter and biscoff to a medium bowl. beat together until combined using a handheld beater. 7. Add the sugar and protein powder and beat again until smooth and fluffy 7. Spread the frosting on top of the cake, drizzle with some extra caramel sauce then slice and enjoy!
https://m.kiti.ai/qvkh