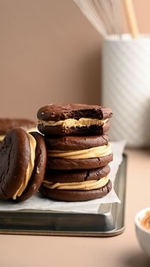 biscoff brownie cookie sandwiches from @mainlymonica
Delicious biscoff brownie cookie sandwiches filled with a creamy biscoff frosting. a perfect treat for those who love the combination of cookies and icing.
caramelised biscuit protein powder
caramelised biscuit protein powder
Instructions
1. preheat oven to 160°c and line a tray/s with baking paper. 2. Add the biscoff, syrup, sugar and milk to a medium bowl and whisk until smooth. 3. Add the protein, cacao, and bicarb and mix again until a soft and slightly sticky dough has formed. 4. Divide the dough into 10-12 balls and place onto the tray (being sure to leave some space between them) 5. Press the balls down into desired thickness (they will only spread slightly) then place in the oven to bake for 10mins. 6. To make the frosting add the butter and biscoff to a medium bowl and beat together using a hand held beater 7. Once combined sift in the sugar and protein and beat again until light and fluffy 8. Pipe or spread the frosting on to the bottom of half of the cookies, sandwich them together with an unfrosted cookie and enjoy!
https://m.kiti.ai/jCMG