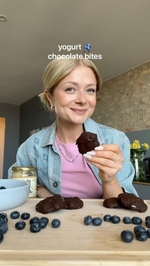 yogurt blueberry chocolate bites from @growingannanas
Crunchy and delicious yogurt blueberry chocolate bites, perfect for summer 2023. this vegan-friendly recipe is easy to make and follows the latest viral trend.
Instructions
1. combine 200g yogurt, 120g blueberries, and optional maple syrup and vanilla extract. 2. Add your choice of nut butter from @koro_de (peanut, almond, hazelnut, pistachio). 3. Melt 100g dark chocolate chips with 1 tbsp coconut oil. 4. Dip the yogurt and blueberry mixture into the melted chocolate. 5. Allow to set and enjoy.
https://m.kiti.ai/J5MG