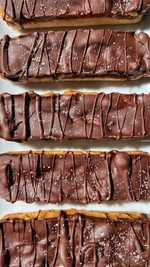 vegan snickers protein bars from @danishealthyeats
These vegan, gluten-free, and refined sugar-free snickers protein bars are a delicious and healthy treat. make them in a loaf pan or cupcake mold and enjoy a guilt-free snack.
Instructions
1. soak the dates in a bowl of super hot water for 20 mins to let them soften. 2. Blend all of the date caramel ingredients besides the milk in a food processor until it's broken down. then add a little of the milk at a time, until a creamy caramel forms. set aside. 3. Mix together the nougat ingredients, starting with 4 tbsp protein, until a nougaty dough forms. if your mixture is too wet, add more protein. 4. Divide the nougat amongst the bottoms of whatever mold/pan you're using. 5. Top them with some of the date caramel, covering the nougat layer. add some chopped peanuts. 6. Melt the chocolate until smooth. divide it amongst the molds/pan, covering the top completely. 7. Place in the freezer for 3-4 hours, until completely firm. if using a loaf pan, wait 4-5 hours before cutting into them. store in freezer.
https://m.kiti.ai/nsKR