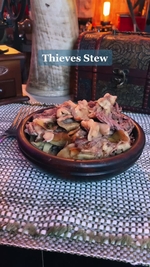 thieves stew from @quincylk
A delicious slow-cooked beef stew with mushrooms and onions. cooked in a crockpot for a tender and flavorful meal.
Instructions
1. add 1-2 lbs beef, 4 mushrooms, 1/2 onion, 2 cans of cream of mushroom, 4 cups of beef broth, salt, and pepper to the crockpot. 2. Cook on high for 8 hours. 3. Add uncooked noodles and cook until noodles are cooked through. 4. Shred beef with forks.
https://m.kiti.ai/Et31