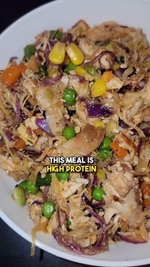 stir fry with rotisserie chicken and vegetables from @alex.solomin
A simple, high-protein stir fry recipe using rotisserie chicken, cabbage, eggs, and mixed vegetables. perfect for weight loss and easy to make.
Instructions
1. get a rotisserie chicken, and take all of the meat off. 2. Throw it into a large pan/wok, and add some red cabbage and regular cabbage (any cabbage works). 3. Scramble a few eggs, and put them to the side. 4. Add some soy sauce, garlic powder, sriracha, and a spice blend of your choice (i used a spice blend with ginger). 5. Add back in your eggs and mix. 6. Then add some frozen mixed vegetables, mix them in and let it cook.
https://m.kiti.ai/vpWH