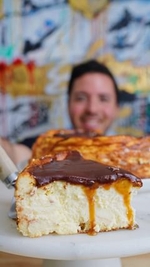 snicker's cheesecake from @succulentbite
A delicious snicker's cheesecake recipe with a rich chocolate sauce and crunchy peanut topping. perfect for sharing with friends and family.
bittersweet chocolate chips
Instructions
1. preheat your oven to 400°f 2. In a large bowl, whip your cream cheese, flour, sugar and vanilla extract until fluffy 3. Add in your eggs and heavy cream, mix until smooth and creamy 4. Pour your cheesecake mix into a 9inch cake pan lined with parchment paper and bake for 45 minutes! 5. Let cool completely and refrigerate over night! 6. Cover with peanuts and caramel sauce refrigerate for 20 minutes then add chocolate sauce. refrigerate for 1 hour 7. Slice, serve and enjoy!
https://m.kiti.ai/95fs