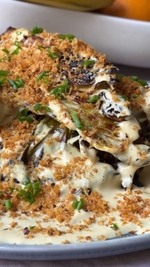 roasted hispi cabbage with cashew sauce from @natsnourishments
A delicious roasted hispi cabbage dish topped with a creamy cashew sauce and garlic chilli breadcrumbs. perfect as a side dish or a light main course.
garlic chilli breadcrumbs
Instructions
1. pre heat the oven to 200c, quarter the cabbage and drizzle with olive oil and salt. roast for about 40-45 minutes until charred and crisp. 2. Meanwhile put all of the cashews and spices into a blender, top with warm water and blend until smooth. pour this over the cabbage, once cooked, finish with breadcrumbs and chives!
https://m.kiti.ai/kU6v