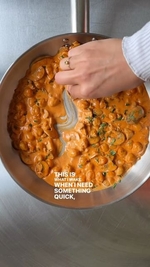 mushroom chickpea stroganoff from @carolefood
A delicious and easy-to-make mushroom chickpea stroganoff, perfect for a midweek meal. this dish is packed with flavour and nutritious ingredients.
Instructions
1. in a medium sized frying pan over a medium heat, add 1-2 tbsp of oil then the onion with a pinch of salt. cook until softened slightly, about 5 minutes. 2. Add the mushrooms and cook until tender. 3. Add the garlic, smoked paprika and tomato paste. cook for 2 minutes. 4. Add the chickpeas, cream and water. stir to combine and bring to a simmer. cook for 5 minutes. 5. Add a squeeze of lemon juice to taste. 6. Taste for seasoning and enjoy!
https://m.kiti.ai/scNe