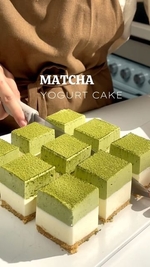 matcha yogurt cake from @vykhuefoodstylist
A delicious matcha yogurt cake with a biscuit base. perfect for dessert or a sweet treat.
Instructions
1. mix the crushed biscuits with melted butter and place in the cake mold. to rest in the refrigerator until use. 2. Soak gelatin in warm milk, after gelatin has bloom, add 35 grams of warm milk, stir well to dissolve gelatin. you can use boiling water method. 3. Then stir the matcha with warm milk. 4. Use another bowl to whip the whipping cream and sugar, in this video i use unsweetened yogurt, if you use sweetened yogurt, you can adjust the sweetness to your liking. then mix in the gelatin and mix it all. divide into 2 equal amounts, mix matcha into 1 of 2 bowls. 5. Let each portion rest in the refrigerator for 30 minutes before adding the rest. the whole thing needs to rest at least 3 hours before enjoying.
https://m.kiti.ai/NfpE