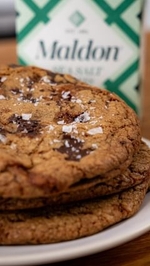 maldon sea salt chocolate caramel cookies from @andyhearnden
Indulge in these delicious maldon sea salt chocolate caramel cookies that perfectly balance sweet and salty flavours. enjoy the rich taste of dark chocolate, gooey caramel, and a hint of maldon sea salt in every bite.
Instructions
1. to make the caramel, add the granulated sugar to a small saucepan. over a medium heat, melt the sugar until you reach a golden amber colour, swirl the pot to mix the caramel 2. Season the caramel with a pinch of maldon sea salt flakes, then pour it onto a heat proof surface covered in greaseproof paper and set aside to harden 3. Add the cold butter, with a pinch of salt to a saucepan and melt. once the butter has melted, continue to cook until it starts to develop a darker colour and smells almost nutty. then, pour the butter into the bowl of a stand mixer and let it cool for 15-20 minutes 4. While the hot butter is cooling, get all your dry ingredients ready in a separate bowl, chop your chocolate into large chunks, and smash the caramel into small coin size pieces 5. Once your butter has cooled slightly, add both the sugars to it. mix using the paddle attachment. once the sugar has dissolved into the butter, add the eggs one at a time and beat until the eggs have emulsified 6. Add your dry ingredients to this in 2 or 3 batches, at this point you're trying to bring the batter together - you don't want to overwork it 7. Add the chopped chocolate and caramel and mix for another 2-3 minutes 8. Line a baking tray with greaseproof paper and give it a light spray with cooking oil. roll the cookie dough into balls and place them on the tray evenly spaced apart. pat them down so they form a slight disc shape, then finish them with some maldon sea salt flakes 9. Bake the cookies at 180°c for 10-12 minutes. take them out of the oven while they're still a little bit soft. enjoy!
https://m.kiti.ai/8GHG