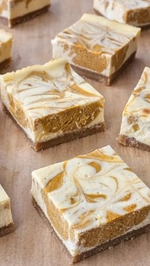 low carb pumpkin spice cheesecake slices from @thelowcarb_kitchen
A delicious low carb and gluten-free pumpkin spice cheesecake recipe perfect for the autumn season. impress your guests with these delightful cheesecake slices.
Instructions
1. preheat oven to 180c/350f. line a baking dish (my baking dish is 7cm (h) x 31cm (w) x 25cm (d)) with parchment paper. mix the crust ingredients and add it to the baking dish. use a spoon/cup to flatten it. bake it for 10 min. let it cool down to room temp. 2. Filling: beat cream cheese with icing sugar replacement until combined. add in sour cream, lemon juice and vanilla extract and beat again until combined. then add 1 egg at a time and mix until just combined. don't over-beat the mixture! 3. In a separate bowl add pumpkin puree, pumpkin spice and 1 cup or a bit more if desired of the filling. mix until combined. 4. Pour the white filling on your crust and dollop the pumpkin mixture into it. using a knife make swirls. 5. Bake for 15 min. reduce the temperature to 160c/325f and bake for 30min. don't open the oven. switch off the oven and let it cool inside for 1 hour. then slightly open the oven and let it cool for another hour. then take it out and let it cool down to room temp. refrigerate preferably overnight. cut into slices.
https://m.kiti.ai/sxk6