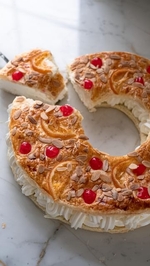 light roscón de reyes with whipped cream from @tictacyummy
A light and energy-packed roscón de reyes made with puff pastry and filled with whipped cream. easy to make in just a few steps.
Instructions
1. stack the round puff pastry sheets. 2. Press lightly with a rolling pin. 3. Make a hole in the center. 4. Brush the surface with beaten egg. 5. Decorate with some candied fruit and almonds. sprinkle a little sugar or erythritol. 6. Bake at 180°c for 20 minutes. 7. Whip the cream with erythritol until it thickens. 8. Transfer to a piping bag and when the puff pastry is cool, split it in half and fill with the whipped cream. 9. Add your little gifts. 10. Enjoy!
https://m.kiti.ai/hqg1