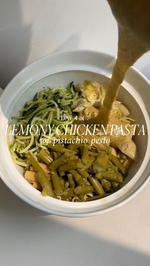 lemony pepper chicken pasta with pistachio pesto from @stephrobinnson
A dairy and gluten-free pasta dish packed with protein, prebiotic veggies, and anti-inflammatory ingredients. perfect for a blood sugar balancing meal that keeps you full for 4-5 hours.
banza rigatoni chickpea pasta
zucchini noodles or sliced zucchini
Instructions
1. cook 1 box of banza rigatoni chickpea pasta for 7 mins and rinse under cold water so it doesn't get mushy. 2. Dice 2 chicken breasts and marinate with 3 tsp fresh black pepper, 1/2 juice of lemon, 4 tbsp evoo, 2 tsp italian seasoning, 1 tbsp garlic powder. let it sit for a couple of minutes or overnight for a deeper flavour. 3. Air fry marinated chicken for 11-14 mins. 4. Prepare pistachio pesto by blending 1/2 cup pistachios, 3 cloves garlic, 1 cup spinach, 1 cup basil, 1/3 cup evoo, pinch of salt & pepper, and 3 tbsp nutritional yeast. 5. Combine cooked pasta, chicken, 1/2 cup asparagus, 1/2 cup artichokes, 1/2 cup zucchini noodles or sliced zucchini, and pistachio pesto.
https://m.kiti.ai/Cxvk