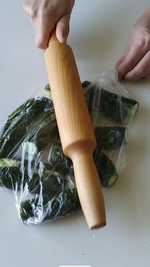 lazy chinese cucumber salad from @leniviy_kulinar
A famous chinese salad with a lazy twist. cucumbers are beaten for a unique texture and mixed with a flavorful dressing.
Instructions
1. place cucumbers in a bag and beat them well with a rolling pin. 2. For the dressing, use parsley, half a spoon of sugar, 30 ml of soy sauce and vegetable oil, juice of half a lemon, sesame seeds, and a little salt to taste. 3. Mix and taste! it will be delicious! but if you let this salad stand in the refrigerator for a while, it will be even better!
https://m.kiti.ai/yAFU