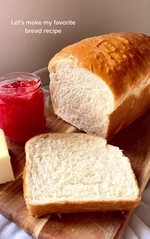 homemade bread from @loavesfulloflove
A delicious homemade bread recipe made with simple ingredients. perfect for sandwiches, toast, or just enjoying on its own.
Instructions
1. to 3 c. warm water, add 1 1/2 tablespoon active dry yeast. cover and let sit for 10 min. 2. Add 1/3 c. vegetable oil, 1 tablespoon salt, and 1 egg to the yeast mixture. 3. Gradually add 8 c. flour, one cup at a time, until the dough is no longer sticky. 4. Knead the dough on a floured surface for a few minutes. 5. Place the dough in a greased bowl, cover, and let rise until doubled in size (about 1 hour). 6. Divide the dough into 4 large loaves or 3 large and 3 mini loaves. 7. Roll each section of dough into a rectangle and place in a bread pan. 8. Cover with a light towel and let rise for 30 min. 9. Bake at 375 f until golden brown on top. 10. Enjoy!
https://m.kiti.ai/pptr