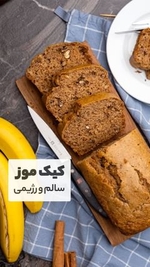 healthy banana walnut cake from @foodiemaryam
A delicious and healthy banana walnut cake made with whole wheat flour, bran flour, and sugar-free. perfect for a guilt-free treat.
Instructions
1. mash 2 bananas equivalent to 1 cup. 2. Mix 1/3 cup honey, 2 eggs, 1 and 1/3 cup flour (including 1/2 cup white flour, 1/2 cup bran flour, and 1/3 cup whole wheat flour), 5 walnuts, 1/3 cup odorless olive oil, 1/3 cup pasteurized milk or bran milk, 1/2 teaspoon vanilla, and 1/2 teaspoon baking soda (or 2 teaspoons baking powder instead of baking soda).
https://m.kiti.ai/NFYe