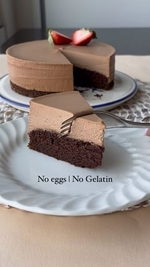 eggless chocolate mousse cake from @pastrybysaloni
A rich and velvety eggless chocolate mousse cake with a fudge base. perfect for impressing guests and easy to make.
plain yogurt or sour cream
freshly brewed espresso or instant coffee powder mixed with water
dark chocolate or semi sweet callets
corn syrup/ golden syrup / honey
whipping cream (whipped to soft peaks)
Instructions
1. preheat the oven to 350f, cover the base of 6inch x 3 inch round cake ring with baking paper and secure the base with aluminum foil tightly wrapped or use a springform pan. 2. In a bowl combine and sift all your dry ingredients. in a separate bowl combine all liquid ingredients. mix dry ingredients into the liquid ingredients and mix slowly until combined. 3. Pour the cake batter in the prepared 6inch cake tins and bake for 20- 25 minutes. let the cake cool completely before pouring in chocolate mousse. 4. First prepare the base of chocolate mousse which is chocolate ganache. heat cream & corn syrup in a small pot until it comes to a boil. pour it over chocolate in a bowl. stir using a spatulas until smooth & glossy. put a cling film in direct contact with ganache. let it cool to room temperature for 20-30 minutes. 5. Meanwhile whip the cream in a separate bowl to soft peaks at medium speed. take 1/4 of this whipped cream and gently folded it into the ganache using a spatula. then fold the remaining whipped cream, gently mix. don't over mix otherwise cream can split. pour chocolate mousse on the chocolate cake and level evenly with a spatula. chill in the refrigerator for at least 24 hours. do not freeze. when the mousse has set, gently demold the ring and portion, & serve.
https://m.kiti.ai/8pyt