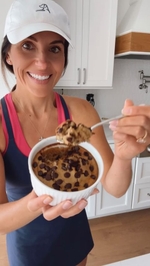 cookie baked oatmeal from @lindsay.keosayian
A delicious single-serving cookie baked oatmeal that tastes like cake. it's dairy-free, gluten-free, and has no added sugar.
raw honey or pure maple syrup
Instructions
1. blend all your ingredients (except chocolate chips) until well combined. 2. Pour mixture into a ramekin or oven-safe dish. 3. Add dark chocolate chips on top. 4. Bake at 350 f for 20 minutes or until a toothpick comes out clean.
https://m.kiti.ai/dV5H