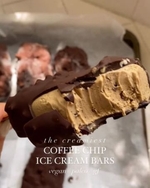 coffee chip ice cream bars & fudgy flourless brownies from @plantbasede
Enjoy delicious paleo & vegan coffee chip ice cream bars and fudgy flourless brownies. both recipes are easy to make and perfect for satisfying your sweet cravings.
Instructions
1. first soak the cashews until plump. do not skip this! soak in a bowl of water overnight in the fridge, or in a bowl of hot water for 1-2 hours until soft. 2. Open can of coconut cream without shaking the can. scoop out 1 cup of the cream top. discard the water at the bottom of the can, or save for smoothies. 3. Add the soaked cashews and coconut cream into a blender with the instant coffee, coconut sugar, vanilla and sea salt. blend until fully smooth. now add a handful of choc chips to the blender and gently chop in. 4. Pour into silicone ice cream pop molds. insert wooden sticks. 5. Place in freezer until fully frozen, about 3-4 hours, up to overnight. 6. When fully frozen, pop them out and place on a piece of parchment paper. 7. In a small bowl, melt the remaining chocolate chips with the coconut oil. chop the almonds into small pieces and mix into chocolate. 8. Dip and roll each bar into chocolate and place on parchment. return to freezer so chocolate sets. 9. Store in freezer in an airtight container. enjoy right from the freezer!
https://m.kiti.ai/C2DJ