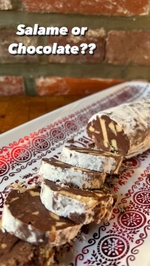 chocolate salami from @homemadebybruno
A delicious no-bake italian dessert made with dark chocolate and cookies. perfect for the festive season and easy to make.
italian breakfast cookies
Instructions
Mix the room temperature butter with the sugar and then add in the cocoa powder. melt your dark chocolate and then mix in once it's cooled. crumble and add in a handful of cookies until you reach the consistency you prefer (about 20 cookies). place the mix on a sheet of parchment paper and roll it up tightly into a shape of a salame. tight both ends and put in the fridge for about 4 hours. dust with powdered sugar.
https://m.kiti.ai/FPLb