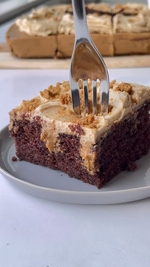 chocolate biscoff cake from @pastrybysaloni
A moist and fluffy chocolate cake with a layer of cookie butter spread and topped with frosting. easy to make and incredibly delicious!
biscoff or cookie butter spread
Instructions
-preheat oven to 350f, line with a square 8 x 8 baking tin with baking paper. in a bowl combine warm milk and vinegar. let it is sit for 5 min and then add oil, vanilla extract & granulated sugar. stir with a whisk until sugar is dissolved. -in a separate bowl combine all dry ingredients. fold the dry ingredients into the liquid ingredients. pour the cake batter into the prepared cake tin. bake for roughly 20-25 min or until firm to touch. let the cake cool in the pan for 20 - 30 minutes. then use a straw or similar tool to make holes on the cake. -scoop out the biscoff spread in a heatproof bowl and melt it in the microwave. pour the melted biscoff spread on the cake and spread it evenly. place the cake in the refrigerator for 30 min or longer for the cookie butter to set. -beat butter and biscoff spread for 1min with an electric whisk or a paddle attachment at medium speed until it is soft & fluffy, then sift powdered sugar into the bowl and beat for 4-5 minutes or longer if needed. add vanilla extract and salt and give it a mix. spread the frosting on the cooled biscoff spread layer. carefully re move the cake from the cake tin, portion and serve.
https://m.kiti.ai/k6vP