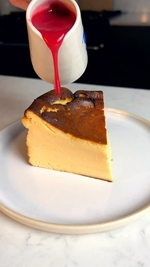 burnt basque cheesecake with raspberry coulis from @samseats
An easy and unforgettable dessert, this burnt basque cheesecake is paired with a delicious raspberry coulis. perfect for a date night or special occasion.
philadelphia cream cheese
Instructions
1. add the raspberries, sugar and water into a pan. cover with a lid, bring to a simmer, then cook over a medium-low heat for 5-10 minutes until the raspberries have broken down. mash with the back of a fork to help. 2. Pour the raspberries into a fine mesh sieve and press through using the back of a spoon to remove the seeds. place this strained couli back into the pan, add a squeeze of lemon juice and cook for 5-10 more minutes until thickened. leave to cool, chill, then serve on top of the cheesecake later. 3. For the cheesecake, add the cream cheese and sugar into a bowl and beat together. add the cream and vanilla extract, gently whisk together, then add the eggs and whisk together until smooth and completely combined. finally, sieve the flour into the mixture and gently whisk to fully incorporate. 4. Butter a 7 inch cake tin then line it with parchment paper. pour the batter into the cake tin and tap on the surface to remove any bubbles. 5. Preheat an oven to 190 c / 374 f (fan) then cook the cheesecake for 40 minutes. then, turn the heat up to 210 c / 410 f and cook for a final 20 minutes until fully browned on top. note: time may vary depending on how cold the batter is - mine was slightly chilled going into the oven as i made it in advanced and kept in the fridge for an hour. if not chilling, reduce cooking time by 10-15 minutes overall. the cheesecake should still be quite wobbly when removing it from the oven. 6. Remove the cheesecake from the oven and leave it to cool for a couple of hours in the tin, on a cooling rack. if you have time, chill in the fridge overnight. remove from the parchment, cut into slices using a hot knife (to get the perfect clean cut) and serve. enjoy!
https://m.kiti.ai/abH8