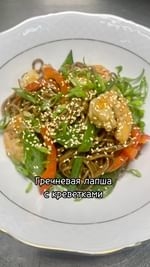 buckwheat noodles with prawns from @istomin_vitaly
A delicious asian-inspired dish featuring buckwheat noodles and prawns. perfect for a quick and satisfying meal.
Instructions
1. prepare the vegetables: chop the bell pepper, onion, beans, garlic, ginger, and chili. 2. Cook the buckwheat noodles according to the package instructions. 3. In a pan, heat the sesame oil and sauté the vegetables and prawns. 4. Add the soy sauce and cooked noodles to the pan, and mix well.
https://m.kiti.ai/WWba